Last week I received my 3
rd
voxbox from Influenster! I was really excited because this box contained goodies for nails from Sally Hansen. Sadly, it did not meet my expectations.
The voxbox contained:
Red My Lips
,
Jaded
&
Pat on the Black
.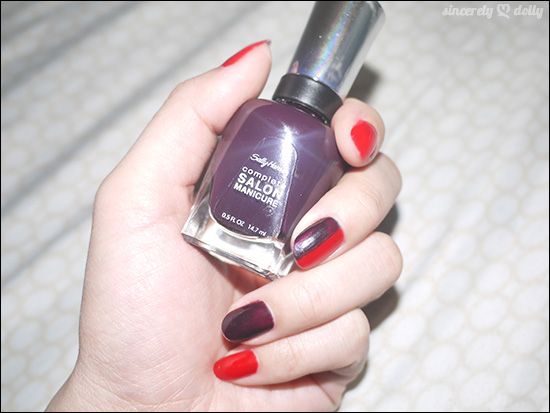 Pat on the Black was NOT black. It was very much

PURPLE.

Hideous purple to be exact.



Red My Lips was a very vibrant red.
Packaging:
7/10 - It's a very simple design. I think the bottle is much bigger than other brands. The bottle also has a HUGE applicator brush that I find messy and annoying.
Color:
8/10 - I hated the purple so much and was hoping it'd come out more black. I have no idea why you would name a nail color black if it's not even close to black. The red nail polish is a very true red but nothing special. Jaded is a great mint color though.
Lasting Power:
5/10 - For a product that claims to have all-in-one, it was crap. I tried it without a top coat (big mistake) and it chipped within a day. Needless to say, they should not be making false claims.
Price:
6/10 - Each bottle goes for more than $6. I would NOT suggest it. It is just expensive and not worth it at all.
Conclusion:
6.5/10 - It is a very average polish for the price you pay. Their colors are also nothing special. I am sadly disappointed.